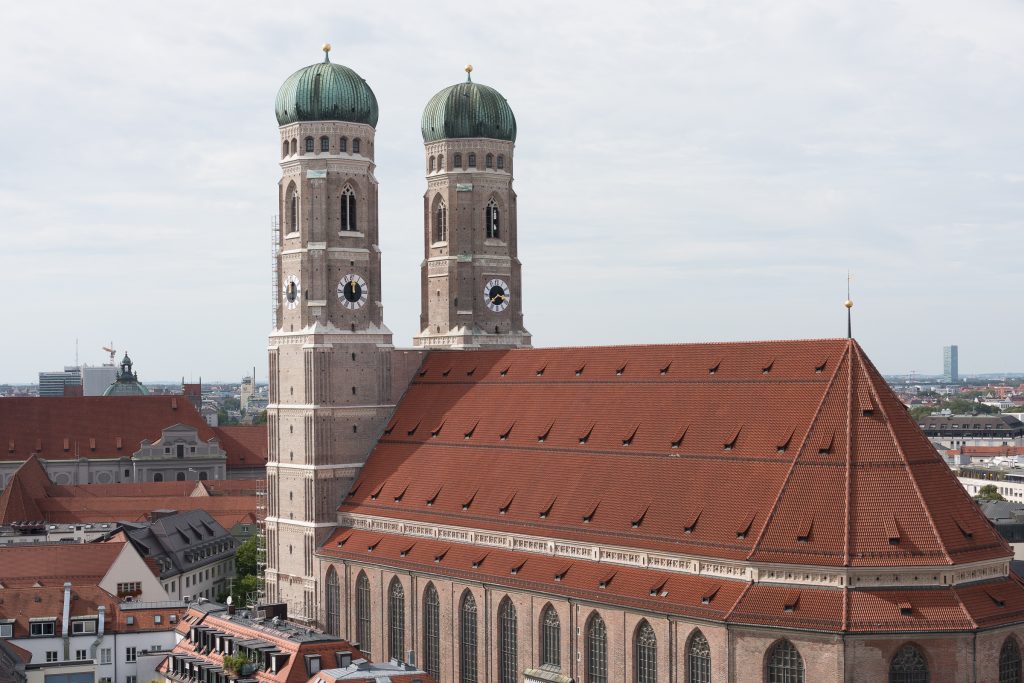 The Frauenkirche, landmark of the city
Classical walk in the center
You stand here face to face with extraodinary master pieces of architecture in the heart of the Isar metropolis. On this tour you will discover a maze of small narrow streets in the city, but also modern shopping malls – both typical of the appearance of the city today. By listening to interesting stories behind history you will learn a lot about the past and present of Munich which often is referred to as primadonna of the south.
The New City Hall on Marienplatz
The New City Hall isn't that new – it dates from the second half of the 19th century. It was built in 40 years' time and it dominates the heart of the city, the Marienplatz. Every morning (and in summer also in the late afternoon) numerous tourists gather in front of the neogothic facade in order to watch and listen to Germany's biggest carillon. During a tour through the city hall, which you can book separately, you'll visit the two historical conference halls with the enormously big painting "Monachia" by Karl von Piloty as well as the beautiful Law Library. Last but not least the highlight of the tour is the famous FC-Bayern balcony.
The Old Court or the Emperor's Castle
It was here that in 1286 Ludwig IV, the first emperor of the Holy Roman Empire was born. Pope Johannes XXII later called derogatorily, Ludwig the Bavarian. You'll get to know why and you also will understand why Ludwig at his time may be considered already as one of the first Europeans. The Old Court, also called the Emperor's Castle, was the first residence of the house of Wittelsbach. It was terribly damaged during WWII, but restored with care.
Today the Pfisterstock and the foundations are still original, being the oldest part of the ensemble. In the basement you can immerse in the life at the court in the middle ages by a brilliantly presented multimedia show.